Back in May 2019 the IMI (Institute of the Motor Industry) hosted only their second ever Electrified Vehicles Advisory Group meeting. Attendees included CEO of IMI Steve Nash as well as a representative of the Office for Low Emission Vehicles (OLEV).
The first meeting was held in February of 2019, where the bulk of discussions surrounding the registration of technicians. It was proposed a standard model, which consisted of an IMI accreditation, accredited training, professional behaviours and commitment to CPD.
The Purpose of the Meeting
This meeting was to look deeper into the next stages of development for the EVP standards set by the IMI. Formalising these standards would then give technicians a much simpler way to certify their electric vehicle knowledge through the "IMI TechSafe" banner.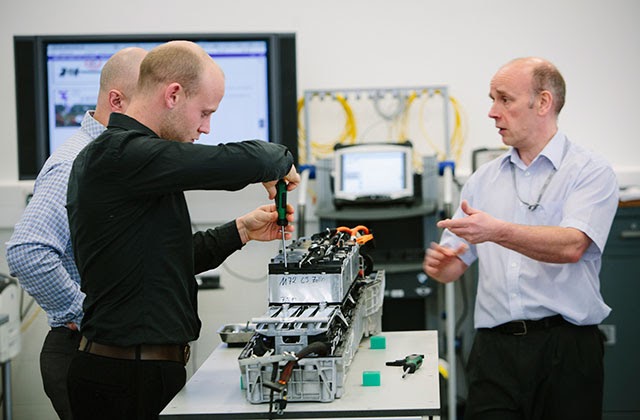 The meeting was there to agree appropriate CPD standards, to then become a part of the growing EVPS model. Attendees were a mixture of key figures within the motor sector as well as governing bodies.
Wise Words From Steve Nash
Steve Nash, CEO of the IMI said: "Our second Electrified Vehicles Advisory Group meeting gave industry experts a valuable opportunity to comment on and shape the future of the safety and best practice standards for this growing sector. Collaboration is crucial to ensure standards are fit for purpose and, as the industry's professional body, we feel we have a crucial role in developing EV Professional Standards that benefit everyone.
We understand the challenges employers are facing when it comes to ensuring staff are properly trained and qualified to work on electric vehicles, which pose a significant safety risk. The EV Professional Standard is a significant step forward for the sector and we look forward to hosting further meetings in the months to come, working together to develop standards that evolve with the technology and meet the needs of the motor retail industry."
Professional Standards For Electrified Vehicles
Now, as part of this ongoing and ever growing model, the IMI have created a video outlining the Professional Standards For Electrified Vehicles. See the video below for more details. 
Last year the Metropolitan Police's vehicle technicians began training to work on electric and hybrid vehicles. All completed their EV Level 3 courses, so that the MET could work towards reducing emissions.
Now, in 2019, the MET have over 300 electric and hybrid vehicles in their fleet. In Scotland, officers are focusing on a 'Switched On Fleets' initiative. The initiative aims to highlight opportunities to use more electric vehicles, without spending a fortune.
A Nationwide Electric Fleet
"We've got some fully electric vehicles at the moment, spread across the country in different roles. The plan is to get a proper plan together and bring them in as a sustainable alternative to what we are currently using in fossil fuel vehicles" – Stewart Taylor, Fleet Manager for Scotland's MET.
Although the vehicles are currently only charged on site, the MET are working with local councils in order to increase the charging infrastructure all over the UK. There is, however, one critical teething problem…
Battling With Batteries
As all-electric vehicles reply on battery power, day-to-day use for police officers will be impacted. For example, the police will often keep their headlights on when stopping at the scene of an incident. This will need to be taken into consideration when introducing these vehicles into the MET.
Despite this issue, there are still a multitude of benefits to forces across the UK adopting these vehicles. The introduction of low emission zones will mean the force will be aligned with various clean air commitments. They also plan to phase out petrol and diesel cars by 2032.
"A good fleet strategy has to strike the balance between what is achievable within the financial constraints of the business and what is the optimum operating policy of a fleet of our size and diversity." – Stewart Taylor, Fleet Manager for Scotland's MET.
Are You Prepared For Electric Vehicles?
In 2018 there were a total of 141,234 electric and hybrid vehicles newly registered in the UK. This is a 20.9% increase from 2017, with a forecast of over 180,000 new registrations by the end of 2019.
With a rise in electric vehicles comes a need for specialist training. Mechanics across the UK need to ensure they are prepared for the change, that's why we offer a range of courses to suit your needs.
We have a half day course for basic awareness, which caters to groups up to 20. We also have full day courses for more experienced technicians, where you will gain a Level 3 Award in Hybrid & Electric Vehicle Operations from City & Guilds.
Find out more about EINTAC and what we have to offer by getting in touch. Call us on 01376 525606 or email us at sales@eintac.com.
Volvo Trucks has delivered its first all-electric trucks to three Swedish firms. Renova, a waste and recycling company, received a refuse truck, whilst logistics company DP Schenker and partner haulier TGM received a Volvo FL distribution truck each.
These trucks provide benefits both for the drivers and for the environment. The usual benefits of EVs apply, such as the reduction of exhaust emissions, cheaper running and maintenance costs, and the use of eco-friendly materials in the production of the vehicles. For the drivers, they provide cleaner, quieter working conditions.
Pre-Series Development
The Volvo FL trucks are part of a pre-series development between the selected customers. Series production of the FL and FE electric trucks will begin in the second half of 2019, with a limited number of trucks specifically for the European market.
The delivery is an important step forward in the adoption of electric vehicles. Although consumers are purchasing EVs at a rising rate, with the number of global sales passing the 1 million mark at the end of 2018, their uptake in commercial sectors hasn't been as drastic.
However, with this news from Volvo along with the development of electric trucks by Daimler Trucks, Ford, Volkswagen and more, it's looking increasingly likely that electric trucks will become more and more widespread in the next few years.
A Growing Market
With electric trucks looking to become more prominent on the roads just as electric cars have, there's a growing gap in the market for experienced EV technicians. If you're interested in gaining skills in this growing sector of vehicle maintenance, then we're here to help.
At EINTAC, we provide the products needed to work on EV's and the training courses required to safely and successfully use them.
Get in touch with us today for products and training. We supply a range of insulated tools, lockout equipment, safety clothing, signage and more. Visit our shop here, and find information about our training courses here.
Feature image credit: Green Car Congress
Electric vehicles have seen a huge increase in uptake in the last decade. With fully electric vehicles being offered by Nissan, BMW, Tesla and many more manufacturers, they're now a common sight on UK roads. So how ready are we all for electric vehicles?
Incentives for drivers
The government has incentivised the adoption of EV's with the plug-in car grant, which offers money towards new EV purchases, and the OLEV grant, which provides money towards a home charging port.
These measures have helped to increase the uptake in recent years, and the infrastructure has been provided to match with public charging ports at car parks and fuel stations now widespread.
Is the vehicle repair and maintenance industry ready?
This is all great news for drivers who want to make the switch to electric. However, although sales of electric and hybrid vehicles have sharply increased by 21% in the last two years, only 3.5% of the UK's 188,500 vehicle technicians are qualified to work on them.
The Institute of the Motor Industry has called for further development in the training of EV skills after the government's response to the Business, Energy and Industrial Strategy Committee's EV report.
The government refused to make any commitments or clarifications regarding its policy towards the transition to electrified transport. Essentially, the push needs to be made by those in the industry themselves to get new and experienced technicians trained in EV work.
EINTAC has a team of experienced electric vehicle technicians
There is a gap in the market for experienced electric vehicle technicians. If you're looking to take your career in the industry to the next stage, we're here to help. At EINTAC, we provide the products needed to work on EV's and the training courses required to safely and successfully use them.
Get in touch with us today for products and training. We supply a range of insulated tools, lockout equipment, safety clothing, signage and more. Visit our shop here, and find information about our training courses here.
Feature image credit: Pixabay
Although electric vehicles are fast becoming more and more viable for the average driver, some drivers still have some uncertainties about what it would be like to own and daily drive one.
Early concerns about the distance these vehicles could cover without needing recharging is still a common anxiety about switching to electric, but not to worry; thanks to advances in both the battery technology and charging infrastructure throughout the UK, electric vehicles are more feasible than ever.
One Man and His Car
One man has taken it upon himself to prove that electric vehicles are a viable option by travelling from Amsterdam to Australia in a modified VW Golf.
Wiebe Wakker converted his Golf to run on an electric motor and started his journey in March 2016, driving across 33 countries spanning Europe, the Middle East, south-east Asia, and Australia.
Since arriving in Australia, Wakker has continued his journey throughout the country, starting in Darwin, driving down to Perth, across to Newcastle, up to Queensland, and back downwards to Adelaide.
His journey will then end once he reaches Sydney. He hopes that this final seven-month stint will ease Australian anxieties about the distance that electric vehicles can cover, and a lack of charging stations.
Electric Charging Points
Although the infrastructure for electric vehicles is still getting off the ground in Australia, it's a different story in the UK.
Charging points are widely available throughout the country, and tax breaks and grants are offered to make ownership even more accessible and appealing.
EINTAC are here to help with all of your electric vehicle safety and maintenance needs. We have years of experience in helping businesses keep their workers safe when working on potentially dangerous machinery, such as electric vehicles. Find out more about our services and get in touch.
Feature image credit: The Guardian
Auto sales and service dealerships wishing to keep ahead of the competition should be aware of a new government led initiative called EVA (Electric Vehicle Approved).
It's an accreditation which recognizes businesses with knowledge, capability and commitment to electric vehicles, and will help to encourage more car owners to switch to a greener alternative.
It includes a set of standards for electric vehicle retail and after sales that have been established to ensure that the automotive industry is ready to embrace the electrification of the UK car market.
The scheme will recognize dealerships who are skilled at selling and servicing electric vehicles.
The brand EVA aims to increase confidence in consumers.
It's part of the governments goal to end the sale of fossil fuel vehicles.
The concept is much like the Gas Safe Register which replaced the CORGI register in 2009. This enabled plumbing and heating engineers to acquire accreditation and instil confidence in consumers in practices which demand skills due to the health and safety risks.
Businesses seeking the accreditation can apply via the National Franchised Dealerships Association (NFDA) but before doing this, should give consideration to what skills and credentials they need in their business
A good place to start is the training of motor vehicle technicians. Statistics from The Institute of the Motor Industry (IMI) continue to project a worrying shortfall in technicians who meet the required standards for electric vehicle service, maintenance and repair.
Enrolling workers on the appropriate training courses is definitely the place the start. Even staff who will have the minimum of contact with electric vehicles, e.g. valetors can attend an 'Awareness' course which will introduce them to the basic workings and potential exposure to electrical hazards.
For technicians involved in 'covers-off' detail of auto maintenance and repair, exposure to the risks of electrical energy in batteries of increasing DC voltage is great than ever. At the very least, they should undertake the City & Guilds Level III Award in Hybrid & Electric Vehicle Operations.
Dealerships embarking on a program of training for their personnel will be well placed to acquire the Electric Vehicle Approved accreditation.
This is a question that is being asked more and more by motor vehicle technicians right around the globe. The incremental increase in low carbon vehicles on the roads is creating new demand for knowledge, experience and qualifications.
Supported by our Approved Training Partner Salvage Wire, we are delivering Awareness Training as well as City & Guilds Level III Award in Hybrid & Electric Vehicle Operations.
Whatever your needs, we can deliver these courses or a tailored program, bespoke to your needs. We can travel to your workplace or you can attend one of our scheduled events at different locations around the country.
Get in touch today to discuss your Hybrid & Electric Vehicle training requirements.

It seems crazy to suggest to a vehicle repair technician that he or she needs to wear three pairs of gloves at the same time. But if the vehicle you are working on is an electric hybrid vehicle and there's a risk of electric shock, you'll soon discover that three pairs are essential.
Rubber Insulated Gloves
The most important pair are the rubber insulated gloves. These will either be Class 0 or Class 00.
The difference is that Class 0 Gloves are tested to 5000v with an advisory safe working voltage of 1000v. The Class 00 are suitable for working voltages of 500v. Both are manufactured to EN60903.
It's the insulated rubber glove that gives the protection against electric shock. And, therefore, generally regarded as the most important.
Cotton Under-Glove
The next glove to consider is the cotton under-glove.
Anyone who's worn rubber gloves for an extended period of time will know that your hands can soon get sweaty.
The cotton under glove will absorb most of the moisture. Because these are a low-cost consumable, they tend to get disposed of after each use.
Additionally, a different team member can use their own cotton under-glove. Then, share the rubber insulated gloves worn by another. Therefore not be affected by a rather unpleasant sweaty residue left behind by the other user.
Leather Over-Gloves
Last of all are the leather over-gloves.
These are also a protection garment. But, rather than protecting the user, they're protecting the rubber glove from the risk of rips and tears.
A rubber glove with a tear will offer no protection against an electric shock.
Before using the insulated glove, they should be tested for rips and tears with a glove inflater. This pumps a small amount of pressure in to the glove to reveal any leaks.
Being fully clad in three pairs of gloves at the same time can make delicate jobs almost impossible. And it's on that note that we remind users that, like all other forms of PPE, these should be regarded as the last line of defense against the hazard, when no other means of protection or mitigation are possible.
If you've followed the manufacturers discharge procedure for the vehicle battery, followed by rigorous testing for dead, it should be possible to carry out the work without the need for any gloves.
You can buy our glove kit today by clicking here
For further advice, get in touch today.
Salvage Wire are one of our approved third-party training providers and are holding Electric and Hybrid vehicle training courses in various locations over the next few months.
This WAMITAB accredited training is specifically designed for the vehicle recycling industry, it is a mix of classroom and practical training, teaches the delegates about the vehicles, how they work, the risks and how to manage the level of risk, and highlights best practice for these vehicles – from first notification of collection to final dismantling. In short, it gives all recyclers the knowledge and confidence to handle these vehicles.
Upcoming training dates: 
Wednesday 30th May – Cardiff
Thursday 7th June – Braintree
Thursday 14th June – Lichfield
The cost is £125 per delegate.
To book this one day training course or for more information, contact andy@salvagewire.com 
Back in 2017, we had the pleasure of meeting members of the Bath Zero Emission Motorcycle Team at the Low Carbon Vehicle Show. Made up of undergraduate engineering students from the University of Bath, the team were working on a project to build a fully electric motorcycle to participate in large racing events.
We took on the opportunity to become sponsors of the Bath Zero Team and provided them with specialist protective equipment, required for carrying out safe inspections and maintenance work on their motorcycle.
We provided the following Safety Equipment:
The Bath Zero team can carry out safe inspection and maintenance work of the motorcycle systems, whether in the workshop or on the track. The motorcycle batteries have a very powerful energy source meaning the team are exposed to the risk of electric shock. The equipment and insulated tools sponsored by Total Lockout are individually tested and certified up to 1000V, making the work hassle free and safe, allowing the Bath Zero team to focus on racing!
For more information on the Bath Zero Emission Motorcycle Team, visit www.bathzero.com