View all blog posts
Vehicle Fire Blankets – An Essential Fire Suppression Method in Car Parks
The consequences of a major incident and insurance loss as the result of a vehicle fire in a car park cannot be better illustrated than by the now infamous fire in Cork City Ireland in August 2019.
A fire in a single vehicle quickly spread to other cars parked close by.
When the fire was eventually extinguished and assessors completed their reports, insurers were staring down the barrel at €30m in losses.
Put aside the financial losses for a moment and imagine a fire on that scale in occupied buildings and the possible loss of life.
Vehicle fires are a significant potential danger and one that cannot be ignored.
Today, our car parks have increasing occupancy by electric vehicles.
The latest batteries being used today are known to burn continuous for many days in the case of a fault. In some countries, the means to extinguish such a fire involves lifting and dunking the burning vehicle in a container full of water. This is specialist apparatus which is not readily available and very time-consuming and difficult to put in place.
Now there's an effective solution on the market which can help to quell the fire quickly, until professional fire fighting crews are on the scene.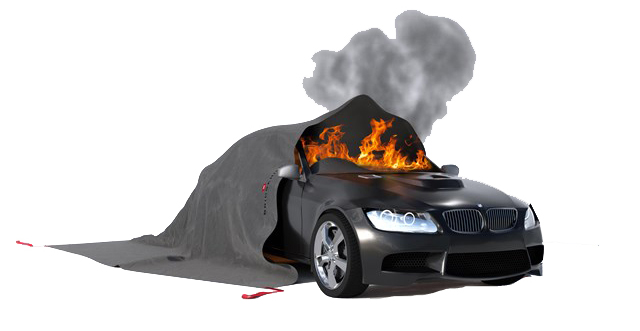 A vehicle fire blanket from EINTAC!
This can be quickly pulled over the vehicle using the attached handles.
Once fully covered, tucking the edges of the blanket up close to the edge of the car will stop air from reaching the fire, thereby stifling the flames and reducing the likelihood of the fire really taking hold and spreading to neighbouring cars.
Not only does it stop the fire but it also contains the toxic fumes that can escape an electric vehicle fire.
The blanket requires quick thinking and fast deployment.
This can be easily achieved by two people.
As awareness of this potential threat increases, car park operating companies have a new duty of care to update their fire risk assessment and put in place suitable measures to mitigate such risk. The fire blankets need to be carefully sited for quick availability. In a multi-storey car park, a blanket should be located on every level.
The blankets are supplied in a carry bag and can also be stored on a convenient barrow to enable them to be brought to the location of the fire with ease.
As in any fire discovery situation, we advise caution when tackling the fire and recommend keeping well back if there's any hint of risk.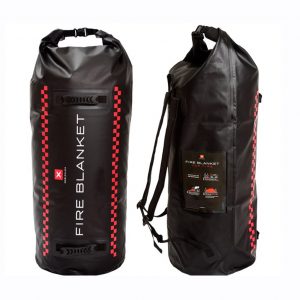 EINTAC are proud to offer two Vehicle Fire Blankets to suit different environments and requirements:
The Car Fire Blanket FR is a single-use fire suppression method.
While the Car Fire Blanket Pro XL is reusable up to 30 times.
Both blankets measure 6 metres by 8 metres (20ft x 26ft)
The only quick and effective solution for handling fires in electric cars and stopping them from spreading.
For more information on vehicle fire blankets, please contact EINTAC today on +44 (0)1376 5256066 or sales@eintac.com.