View all blog posts
EINTAC Supply Specialised Hydraulic Lifting Table to Mazda UK
EINTAC supply a wide range of products to help vehicle technicians safely work on Electric and Hybrid Vehicles. Occasionally our customers come to us with requests that are a little more specialised or unusual. In late 2020, when Mazda approached us to be the sole provider of tools, equipment and signage for their UK dealerships they were also interested in some specialist hardware. Among their specification was a hydraulic lifting table to facilitate the safe removal and reinstallation of electric car batteries.
With insight into their requirements, we began a thorough due diligence process. First, we established a shortlist of manufacturers of lifting tables that would adequately support the weight of electric vehicle battery arrays. We then reached out to each of these companies to better understand their products and ascertain how well they would fit into our proposal to Mazda. For example, one aspect that Mazda were interested in was making these lifting tables multi-purpose. To meet this we ensured that any lifting tables we selected would be fitted with a removable top railing system to allow each dealership to use the table for work on combustion engine vehicles such as during engine and gearbox removal.
Following this process, we were able to select our preferred manufacturer. We then organised a covid-safe factory visit alongside our contact at Mazda so that all parties could ensure they were happy with the product selection. The socially distanced factory tour confirmed to both EINTAC and Mazda that the selected supplier would tick all of the boxes required and so this lifting table formed part of the final product selection sent to all Mazda dealerships in the UK in preparation for the launch of the MX-30.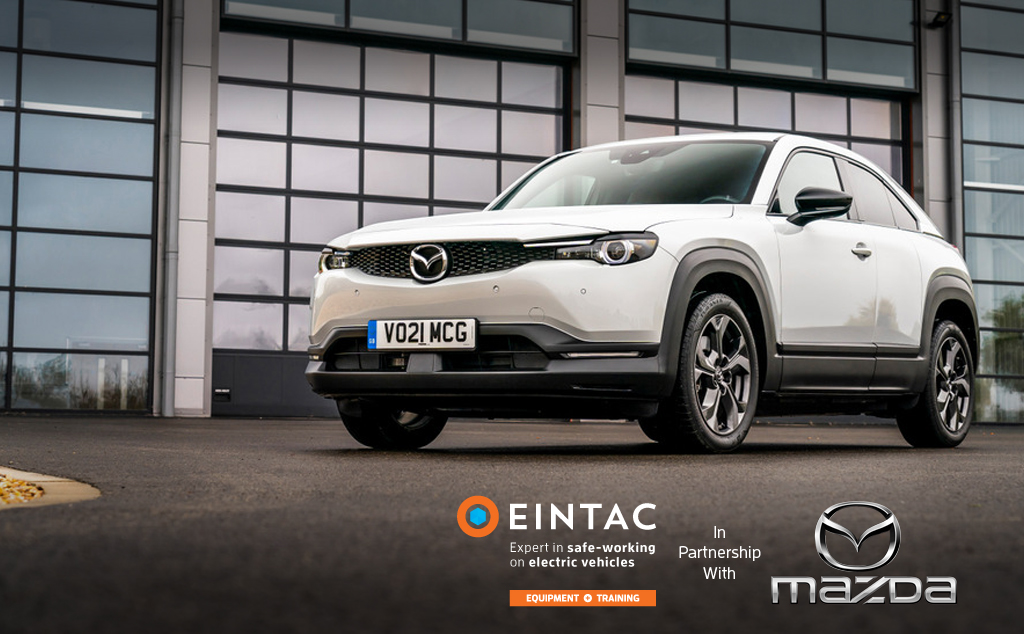 The thorough process we undertook to ensure the product supplied to Mazda were of the highest possible quality and within their pricing scope is a strong example of the attention to detail we pride ourselves on at EINTAC. Ensuring our customers are satisfied with the products on offer is a vitally important aspect of the way we chose to do business at EINTAC and this example is just one of a plethora of similar situations where we have gone the extra mile for our customers. You can read more about our partnership with Mazda here, or find out about the other ways we worked to go the extra mile for them with our bespoke, laser engraved tool kits here.
If you or your business would be interested in seeing first hand how EINTAC go the extra mile to ensure complete customer satisfaction then get in touch with us today on +44 (0)1376 525606.