View all blog posts
EINTAC Forms Partnership with Mazda to supply all UK Dealerships
EINTAC are delighted to announce that we have been selected as the only provider of tools and equipment for electric vehicles to all of the 135 Mazda dealerships in the UK.
Mazda's move into the Electric Vehicle market will begin with the MX-30 which is available to test drive in the UK from 12th April 2021. Prior to the vehicle arriving at dealerships up and down the country, Mazda needed to ensure that they are equipped to carry out work on the vehicles in a safe and protected manner. Mazda approached EINTAC thanks to our experience and expertise in the field and provided us with a clear and robust specification.
At EINTAC we got to work ensuring that our solution to be presented to Mazda not only met their specification but exceeded their expectations. We did thorough due diligence to secure the latest, high quality items such as a hydraulic lifting table to allow the safe removal and installation of the batteries as well as creating new, Mazda branded warning signage in various formats. A key part of our offering to Mazda was the bespoke Insulated Tool Kit we put together for them. The tool kit includes individually selected tools that Mazda Technicians require to work on the MX-30. As part of EINTAC's tailoring service, each item is laser engraved with Mazda's logo.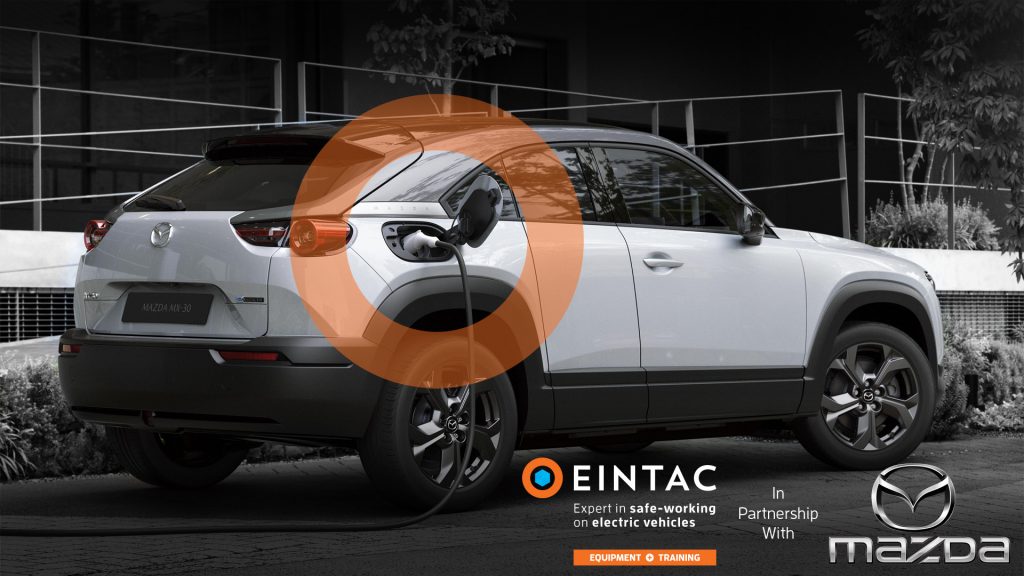 Following approval from Mazda's Technical Support Department each Mazda dealership was provided with a bespoke EINTAC catalogue. This detailed all the Mazda specified products to allow each branch to place orders for the equipment they needed and to allow for easy and effective reordering in the future.
Since circulation of this brochure EINTAC have been busy taking calls, enquiries and orders from Mazda dealerships all over the United Kingdom to help each branch prepare for the arrival of the MX-30.
We are extremely happy to have been selected by Mazda to become their supply partner for tools and equipment for working on electric vehicles. This presents another fantastic step forward and places EINTAC as a market leader for electric vehicle tools and equipment. Our experience and expertise in this still evolving market sector makes us a valuable partner for all car manufacturers. For now, we look forward to a long relationship with Mazda.