Do You Have The Right Skills For The Job?
The answer to the question "do you have the right skills to do the job?" is yes, providing you are a mechanic who has had ev training, and accredited to work on hybrid and electric vehicles. If you haven't, then you shouldn't attempt even routine maintenance.
The electrical system in an electric vehicle carries a charge in excess of 230V; much greater than the domestic electricity supply. This means that it is paramount that mechanics working on them are properly ev trained. This will make electric cars safe before work on them begin. Therefore, this is important in order to avoid serious or even fatal injury.
Electric cars are gaining popularity. In 2018, of the 18m used cars sold, over 100,000 were hybrid or electric. Government incentives such as exemption from road tax, the Homecharge Scheme and Benefit-In-Kind for cars that are emission free, continue to boost the electric car market. Industry insiders expect exponential growth, particularly as we move closer to 2040. This is in line with the Government's target for the abolition of cars powered by the internal combustion engine.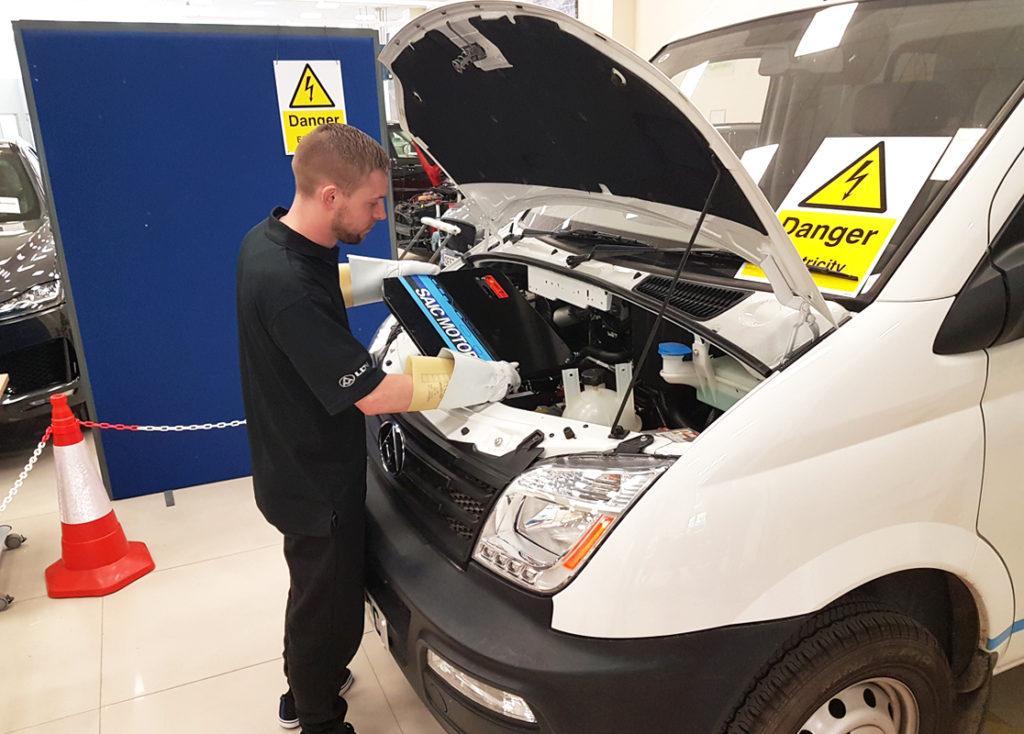 The Importance of EV Training
Research conducted by the motoring industry suggests that just over 95% of motor mechanics do not have any previous ev training. If electric vehicle owners expect to be able to visit their local garage to have their car serviced or repaired, this needs to be rectified.
An 18-year old aspiring to be a traditional motor mechanic, will be out of a job by the age of 40, unless they undertake ev training. However, the skills of a traditional motor mechanic are still going to be needed for some time to come. But the number of trained ev mechanics needs to increase alongside the growth in electric car ownership.
How do we Fill The Skills Gap For Hybrid and Electric Vehicles?
Safeguarding
Safeguarding of mechanics and others who are around electric vehicles is highly importance. The Institute for the Motoring Industry continues to work with the Government on introducing legislation that will work in tandem with existing H&S and Electricity at Work regulations. This is to ensure that employers take steps to keep their workforce safe when working on electric vehicles.
A Recognised System of Accreditation
Educational courses for working with electric vehicles already exist. They are usually delivered by the private sector but there is no standard national syllabus or system of accreditation. The National Institute for Automotive Service Excellence has introduced the ASE certification. This starts at entry level with opportunities to progress to a masters level. The industry needs to work together to put in place an incremental approach to accreditation, making it clear what each level qualifies a mechanic to do.
Incentives For Garage Owners
Most mechanics qualified to work on electric vehicles work for main dealerships. Small business owners should see he incentive to increase the force of qualified mechanics.
More Courses Need to be Available
There needs to be an increase in courses that lead to accreditation, and more universities and further education colleges need to start running courses.
Final Thoughts
Currently, there is no joined up approach to qualifying as an electric car mechanic. The government needs to work with the industry, educational providers, and those who want to work in the industry to change that.