View all blog posts
Green Number Plates Make Identifying Electric Vehicles Easier
The government have given the green light to a new initiative to help identify zero-emission cars. All newly registered and existing electric vehicles are permitted to sport new number plates with a green flash on the left-hand side to help distinguish them from internal combustion engine powered vehicles. The green strip was selected from a number of proposed options and resembles the design currently used for EU badges and country flags.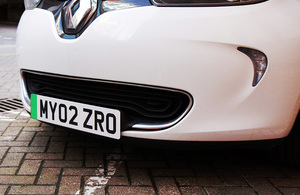 The new number plate design is intended to make it easier to identify electric vehicles and was unveiled by Transport Secretary Grant Shapps who became the first person to have them fitted onto his electric car. Shapps stated that the new initiative will help local authorities to "design and put in place new policies to incentivise people to own and drive them."
The move to these new plates is good news for electric vehicle owners but also serve a very useful purpose for all road users. Being able to quickly and easily identify an electric vehicle can be a lifesaving advantage, particularly if one has been involved in an accident. In such a situation it is always advisable to treat the vehicle with the utmost caution. There is a chance that the storage of electrical energy could have been compromised by either a damaged cable, a short circuit or damage to the battery cooling system. Any of these scenarios could lead to the battery pack overheating, potentially leading to a catastrophic fire. For accident recovery or first responders these dangers are known and can be accommodated for, but for average road users education is needed to ensure they stay protected when trying to provide assistance.
For those looking to work on electric vehicles, EINTAC provide not only the tools for the job but also industry accredited training to ensure anyone coming into contact with these cars can do so safely.
Contains public sector information licensed under the Open Government Licence v3.0.